The Darkroom is an online component of Beyond Good and Evil that grants you access to the closet containing the 13th Mdisk in the back corner of Akuda Bar (beside the Puck Game table).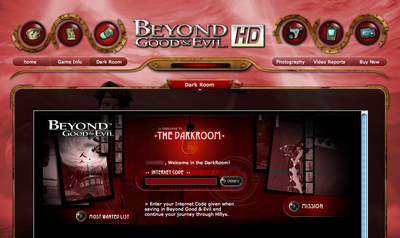 Everytime you save your game, a unique 16-character "Internet Code" is generated. (This code can be found in a green font towards the bottom of the Save or Load screens.) Create a UPlay (Ubisoft) account and enter your personal code at the Darkroom website.
Once you've entered your 16-character personal code, you will be added to the Most Wanted List and you must complete the online Mission. You will then receive a unique 4-character code.
The Most Wanted List ranks the scores of players worldwide. Here, a current count of 64,160 players can compare their scores and challenge each other. The scores are based on the following criteria, ranging between 200,000 and 2,000,000 points each: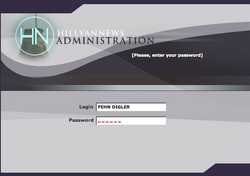 The online mission requires you to hack into Fehn Digler's administrative account at Hillyan News, which broadcasts the Alpha Section's propaganda. If you succeed, you will receive a unique, 4-character code that will unlock the closet next to Francis' table in the Akuda Bar.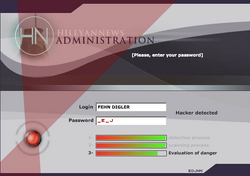 The Mission is a hangman-style guessing game where the player must guess a 4- to 12-letter word. There is a 3-strike rule that allows you to guess up to 3 letters incorrectly. The game will keep track of all of the letters you have guessed in the bottom right-hand corner.
When you guess a 4th incorrect letter, you fail the mission, the password will change, and you will have to guess different word. You can retry as many times as you like. Once you succeed you will receive your unique 4-character code.


WARNING: This section may contain spoilers!
Below are the passwords known to crack the account.
Hint: The fastest way to crack the code is to find a common letter amongst all of the words to help narrow down your options.
DOMZ
JADE
NEWS
PEYJ
ZOOM

MUSCA
HELIX
VORAX
ANCEL
AKUDA
ALPHA

RAYMAN
CAMERA
GUERRE
SECRET
HILLYS
PREUVE

DOUBLEH
SECTION
AQUILUS
PAPILIO
ANIMAUX
UBISOFT
TIMOREA
DEFENSE
CROCHAX

ANGUILLA
ANEMONIA
NAUTILUS
LENTILLE
DARKROOM
REPORTER

CREATURES
REBELLION
CYCLOPEUS

INFORMATION

CONSPIRATION
GOUVERNEMENT
PHOTOGRAPHIE

Once you have completed the Mission, you will be given a 4-character code. Use this code on the closet in the back corner of the Akuda Bar beside Francis' puck table to receive the 13th Mdisk.
Community content is available under
CC-BY-SA
unless otherwise noted.